Hunter (not his real name) crouched next to the burning tires on Argyle Street, allowing the plumes of smoke to wrap themselves around him.
He ran his fingers through charred pavement and began rubbing the soot on his face. Some of the other men whooped and hollered at the column of Ontario Provincial Police a few hundred feet in the distance, but Hunter just paced in silence.
The police had been chased off Six Nations of the Grand River territory while trying to arrest a land defender a few minutes earlier. They'd fired rubber bullets at a group of unarmed protesters and used a Taser on one of them after one of their squad cars was hit with a rock. You can read my story on the confrontation here.
Now the community was erecting a series of barricades to prevent them making incursions into their territory. When the sun set over Southern Ontario and the last of the tires burnt out, they threw wooden pallets on to keep the fire going. Someone drove a steamroller along Argyle Street and parked it across from the police line.
"It's a good day to be Indigenous," one man shouted to no one in particular.
A sign welcoming drivers to Caledonia had been spray-painted over. It now read LAND BACK.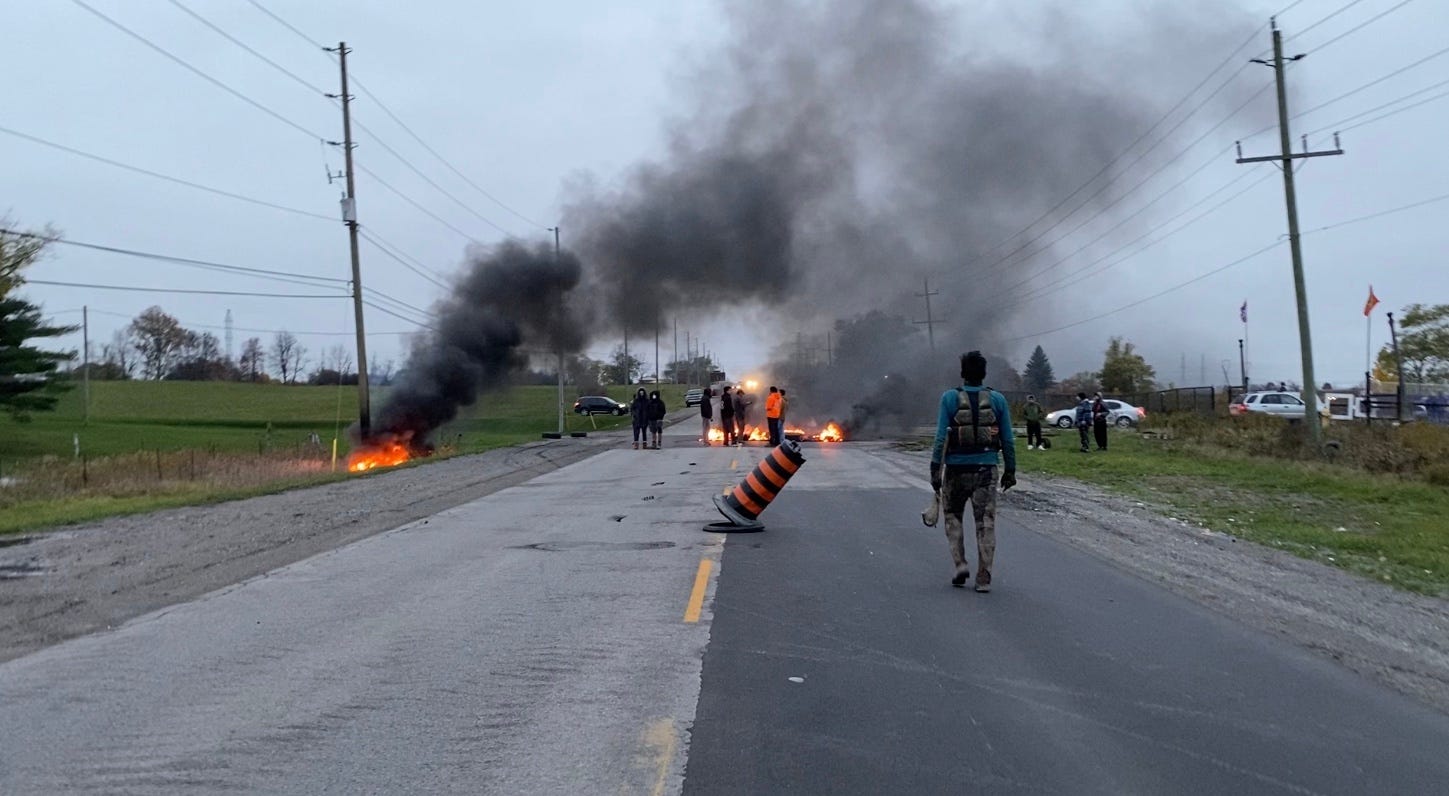 Hunter and other land defenders form a line across from police outside Caledonia, Ont.
A few hours earlier, Hunter and I stood in the mud and rain, sharing a tin of chewing tobacco, awaiting a court decision on their camp. Since July 19, the Haudenosaunee at Six Nations have occupied a construction site on contested land. Their camp has halted progress on the McKenzie Meadows development, and they say they won't stand down until the project is abandoned.
They call the camp 1492 Land Back Lane. Skylar Williams, the group's spokesperson, says they don't want money or promises from the government.
"We want our land back."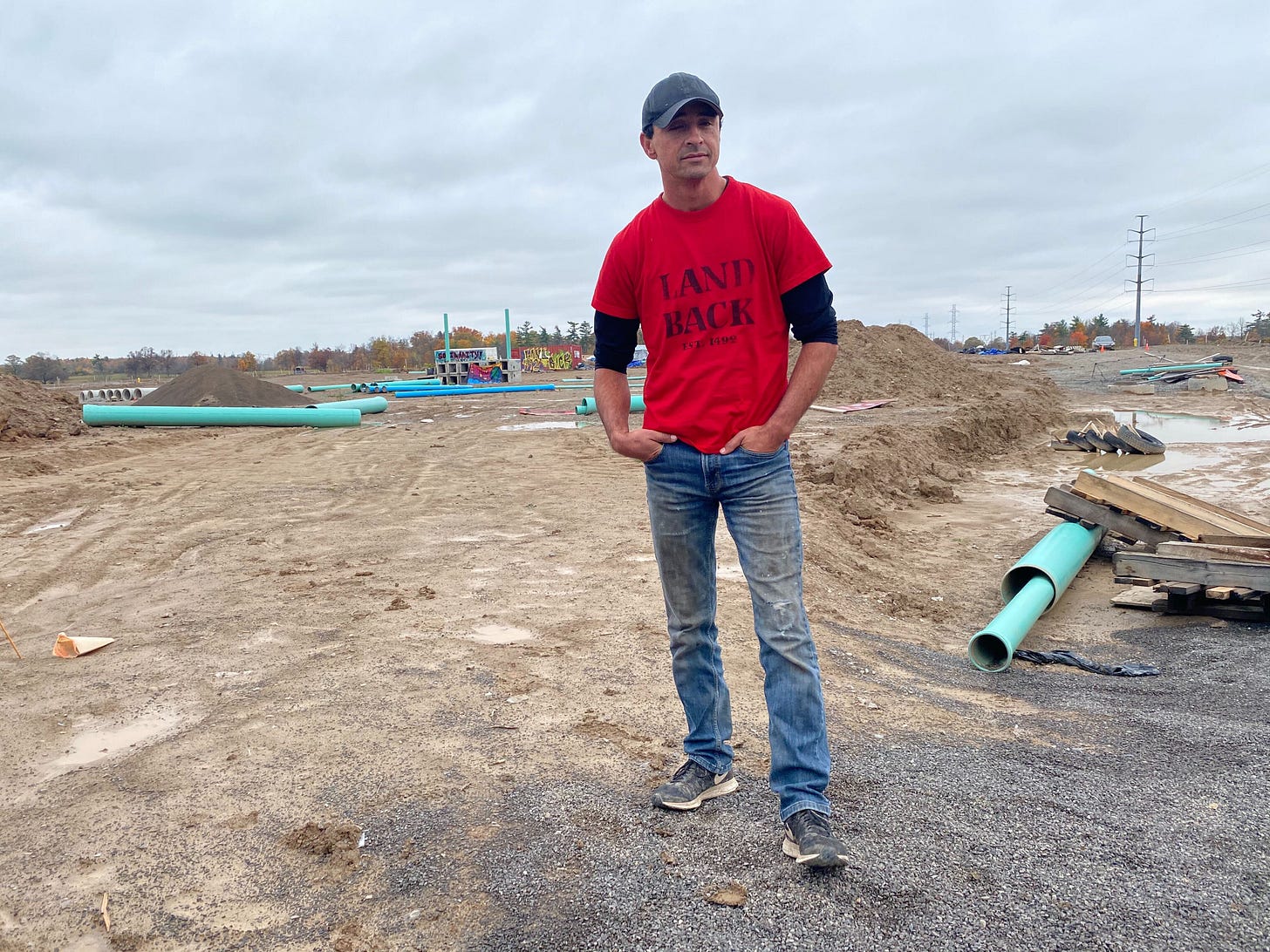 Skylar Williams at the contested construction site.
Williams isn't talking about the Haldimand Tract — a sprawling piece of land that extends six miles on either side of the Grand River between Lake Erie and Lake Ontario. That was granted to the Haudenosaunee by the British in exchange for their help during the U.S. War of Independence in the 18th century. Most of that has been seized by settlers in the intervening years and is now home to suburbs and farmland outside Hamilton.
He's talking about land adjacent to the Six Nations reserve, land that could be used to house its growing population of over 25,000 people. It's one of the most densely populated reserves in North America.
Williams was in court Thursday, as Hunter and I stood around and spat tobacco residue from our mouths. It was a foregone conclusion that the Ontario Superior Court judge would sign another injunction giving police the authority to raid the camp and arrest the land defenders.
"There's a quote that I can't quite remember," he said. "It's something like, 'I want to live so free that my existence will become an act of political defiance.' I messed it up but I think that's the idea."
Hunter is Cayuga from Six Nations. He would have been just a boy when the OPP and Haudenosaunee faced off in Caledonia over a separate housing development 14 years ago.
Now, as a young man, he spends each night in a tent pitched on the hard ground at McKenzie Meadows. It's been almost 100 days since this act of resistance began and, in the last two weeks, downpour after downpour has left everything on the site covered in a cold, muddy film.
But the camp remains in place, occupied by men and women from the Haudenosaunee Confederacy — a 1,000-year-old political alliance made up of the Mohawk, Oneida, Onondaga, Cayuga, Seneca and Tuscarora nations.
Under Canadian law, Williams and the others are all wanted. There's a warrant out for their arrests because they violated previous injunctions  barring them from the site.
Most were rounded up and thrown in jail on Aug. 5, but once they were released on bond the group returned to Land Back Lane and occupied it again. So far at least 32 people associated with the camp, including two journalists, have been detained.
The only way for police to enforce the latest injunction is by raiding the camp, or waiting for a member to walk out of the front entrance into Haldimand County. The land defenders can access Six Nations — where the OPP likely won't pursue them — through a series of clay hills under the hydro towers that cut across their territory. That leads to Argyle Street, which borders Caledonia and Six Nations.
Though that way out of camp is relatively safe, it's still technically in Ontario and not Indigenous land. Only once you cross the road into a farmer's field are you safe. So the Argyle Street entrance has been the site of a few confrontations between the OPP and Haudenosaunee.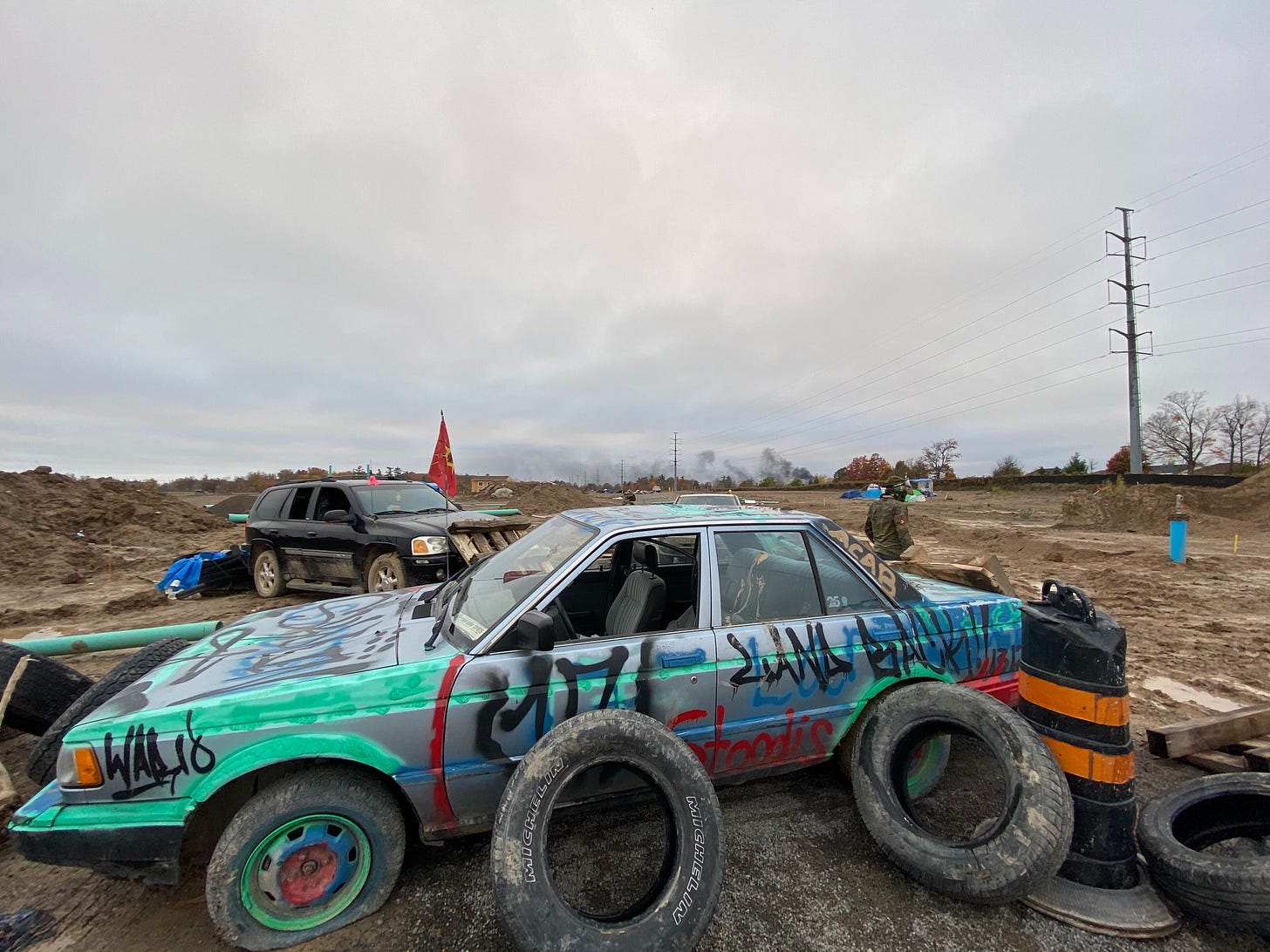 Part of the barricades at Land Back Lane.
I was at Mark's Work Wearhouse on Thursday — buying wool socks for my dainty feet — when shit went off outside the camp. It had been an otherwise normal day at Land Back Lane (injunctions, rain, boredom, trucks stuck in the mud). But when I saw the OPP start to block off Argyle Street, I figured I was about to miss something big.
Police sealed off the junction where Highway 6 and Argyle Street meet around 5 p.m. ET, and there was no way back into the Haldimand County side of camp, which — by now — had been blocked with tires, pallets and a spray-painted Nissan.
At a distance, I could see the acrid smoke billowing over Argyle Street and Sixth Line. With no other way in, I drove through a suburban street, parked the car, hopped a fence and began trudging through the mud.
There was a time when I could box four or five rounds without breaking much more than a sweat. Now, with my belly full of animal crackers and coffee, I wheezed and stumbled through the woods for about three kilometres.
Once on the other side, it looked nothing like the quaint country road I'd seen just an hour earlier.
Trucks and jeeps formed walls along the pavement and a man drove his dirtbike around the tire fire. A hydro pole had also been lit ablaze. Someone had spray-painted "1492" over a sign in the parking lot of the Caledonia Baptist Church.
Walking through the smoke, I could hear the metal inside a tractor tire snapping as it burned next to the hydro pole.
"We're going for broke now, they've pushed us too far," said a man in his 60s. "That hydro pole is going to go if they keep this up."
I am not an expert in land claims or constitutional law, but I'd like to think that — after years of covering civil unrest — I know a thing or two about crowds and police. While the OPP may not have much trouble arresting 12 to 15 peaceful protesters on a construction site, they cannot simply overwhelm Six Nations.
And any act of aggression against the camp seems only to strengthen its bonds of solidarity with the people of Six Nations. In other words, even had the police succeeded at arresting one of the land defenders Thursday, they would have just created dozens more, frustrated by what they consider a violation of Haudenosaunee sovereignty.
Foxgate Development, the company behind McKenzie Meadows, would point to the fact that the band council at Six Nations signed an agreement in 2019 to publicly support the project. But as is the case in many Indigenous communities, the band council is just one of many power centres in town.
"Most people here don't vote, we see the band council as an extension of the Indian Act, as an extension of the federal government," said Williams, who lives in Six Nations with his wife and four daughters. "We're here fighting for sovereignty of the people. Not the band council. This is about the people. This is about land. This is about our grandchildren."
Williams was a young father when the dispute over another land development brought the Haudenosaunee face to face with the OPP in the mid-2000s. He took to the front lines and, during a skirmish with police, was arrested and later charged with a litany of crimes — including assault on a police officer, robbery and resisting arrest.
A judge denied him bail and Williams spent the next seven months in a Hamilton jail cell. He was in solitary confinement for four of those months.
All charges against him were later dropped. Rather than deter him from further action, his prison stint only strengthened his will. Before deciding to take part in the Land Back camp, Williams says he spoke to his daughters.
"I told them that sometimes, in these situations, police can escalate things and people can die," said Williams. "My youngest cried. But they know what this is about and it's about more than just us. I am not a violent person, I'm just someone peacefully asking for us to be heard."
***
Your subscriptions are what make reporting trips like this possible. Without you, I couldn't be here to tell this story. If you're not a subscriber yet, today is a great day to join the ARMY OF CHAMPIONS. If you're already a subscriber, tell your friends and spread the word. 
And as always, thank you. It's an honour to be able to do this work, and it's all thanks to your support. 
Your friend,
Chris